| | | | | |
| --- | --- | --- | --- | --- |
| Home | wallpaper | photos | | contact |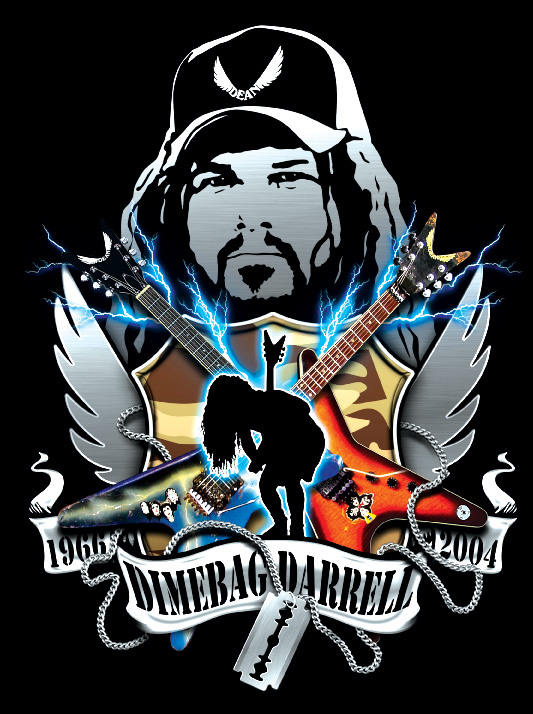 logo by Dean
Shock, anger, disbelief..and then incredible saddness. These are the feelings that gripped us all on Dec. 8, 2004. Please take a moment to reflect on the life of a man who's heart was bigger than his "black toothed grin" and all of the state of Texas. A man who touched more lives in his short time here on Earth than most will touch in their entire lifetime. Having never had the opportunity to meet him, I did have the honor of seeing him perform live when he was just 16 years of age. Even though the name meant nothing at the time, once he started to play, you knew in that instant that you were in the presence of greatness. Not one person alive or dead has ever left an impression such as that night did. I have spoke of it often through the years not ever dreaming at the time, that this young kid would grow up to effect so many, so profoundly. So here's to Dime. Raise your glasses and pay tribute to one of the greatest guitarists that ever graced us with music. May memories of your antics and echos your laughter remind us daily that life is too short and too precious to waste. Thank you Dime. You will live on forever in the hearts of so many.

If you would like to to share your art work, photos and stories of how Dime has influencd your life. Please email anything you would like to contribute to:
webdesign@tributetodime.com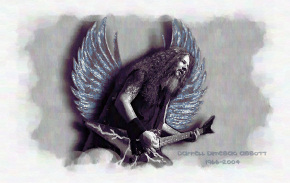 Custom graphics can be made from your photos on request at no charge but please consider making a donation to The Dimebag Darrell Memorial Fund:

Dimebag Darrell Memorial Fund
110 SW Thomas
Burleson, TX 76028
For anyone wishing to to make a donation on behalf of Jeffrey "Mayhem" Thompson:
Jeff "Mayhem" Thompson Memorial Account
First Community Bank
200 Olivia Dr.
Newport, AR 72112
870-523-3611
Acct: 225200811308
All information on this and VH1's Save the Music fund can be found on the Damageplan.com website.
Click below to browse our Dimebag Darrell tribute wallpapers for your computer. These are for personal use only and may not be used in other collections. More are in the works and will be added soon.
Sign the
Guest Book for
Darrell "Dimebag" Abbott at Legacy.com

Click on the image below to order the Dimebag Memorial Bracelet.
All proceeds, every dime of profit will be given to The Dimebag Darrell Memorial Fund to help cover bereavement and medical expenses for John "Kat" Brooks, Chris Paluska, and Jeffrey "Mayhem" Thompson.
© 2005 Jeta1WebDesign